BYOB Terrarium Making Event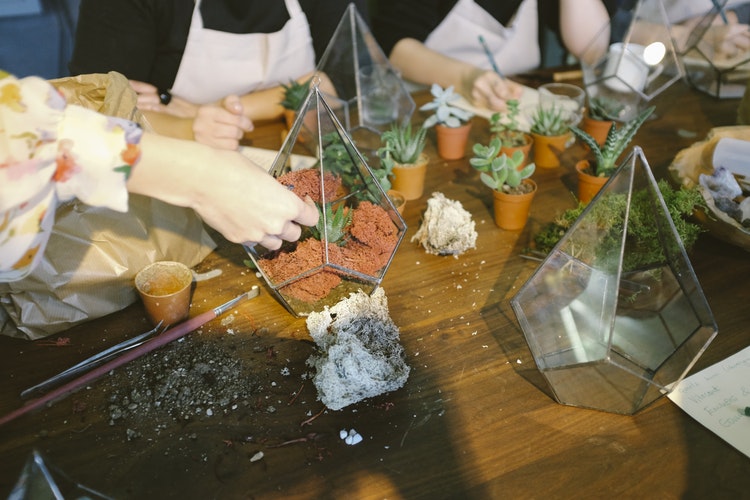 Terrariums are containers design to hold plants in controlled conditions. The defining feature of a terrarium is that it is an enclosed replica of a natural environment that is in contact with the earth, so some sort of soil, sand, or rock must be present. When the top of the container is closed, it tends to be warmer and more humid, while open-topped ones are cooler. Lighting in a terrarium can be controlled with the use of internal and external fixtures. Automated lighting systems can even be used to simulate natural conditions. They are a great way to create your very own fairy garden in a charming contained environment. The possibilities and decorative accents are endless when creating a terrarium.
During our 2hr BYOB Terrarium Making class at our studio in Miami; we will guide you through out the process and provide you with all the necessary materials, such as soil, sand, or rock to make your very own fairy garden terrarium. We have different types of containers from glass to wood to all in between, as well as a great selection of small plants, succulents and cacti. We also offer tiny little figurines to add as decoration and make the terrarium unique and truly yours. This class is a fun and great way to enjoy an evening socializing and getting creative with friends and family. Check out some of our containers below for some ideas and don't forget to check out our calendar and register today for the next class! 

Class Time:
– 2 hours.
Materials Included:
– 5″ bubble, star or heart shaped glass container.
– Sand, rocks, soil and moss.
Amount of plants included:
– 3 per person.
[siteorigin_widget class="Sydney_Portfolio"][/siteorigin_widget]
[siteorigin_widget class="Sydney_Action"][/siteorigin_widget]